The COVID-19 crisis will lead to an economic recession and increased debt, outlining an economic and fiscal recovery plan for the post-pandemic period will therefore be an important step going forward.
The Coronavirus Outbreak and Government Actions to Prevent Transmission
The COVID-19 crisis arrived relatively late in the Caribbean but is now clearly affecting the region, including Trinidad and Tobago. Figure 1 shows that the first confirmed case in the country was reported on March 12, 2020, a person with a recent travel history. On March 21, the number of confirmed cases jumped from nine—all persons with recent travel histories—to 49. The 40 persons who tested positive all came back from a cruise in the French Caribbean and were quarantined upon their return. Since then, the number of persons with COVID-19 has increased to 97 (as of April 2), including locally transmitted cases.1 Unfortunately, six deaths related to COVID-19 had been reported as of April 2.

To respond to the health crisis, the government of Trinidad and Tobago gradually increased measures to contain the spread of the virus. At the end of January, travelers from China were restricted from entering the country. Later, travelers from South Korea, Singapore, Japan, Italy, Germany, France, and Spain were added to that list. As the coronavirus crisis exploded globally, the government decided on March 16 to close its borders to everyone except Trinidad and Tobago nationals and health workers. Schools and universities were also closed until April 20. Additionally, gatherings of more than 25 persons were forbidden and religious bodies were asked to limit gatherings. All bars had to close and no in-house dining for restaurants was allowed. On March 21, the authorities announced the closure of all borders to everyone, including nationals, effective midnight on March 22, except for cargo vessels bringing food and pharmaceuticals. Finally, on March 26 the government announced that as of March 29 all non-essential activities were to cease until April 15. To enforce these measures, the police service moved its alert state from yellow to orange, the second-highest level. This allows the police service to increase patrols on a 24/7 basis.
Economic Growth Prospects: Then and Now  
The economic crisis caused by the coronavirus outbreak is unprecedented and unlike the supply shock caused by 2008–2009 financial crisis. In the current crisis, both supply and demand are affected. Due to the strict health measures, labor supply is significantly decreased and supply chains are interrupted, in addition to the severe constraints on the operations of non-essential businesses. As persons become unemployed, demand for certain goods and services will drop, leading to an additional supply shock. Producer and consumer confidence are expected to fall, leading to delayed investment and precautionary savings.
For Trinidad and Tobago, several sectors are affected. With more than 460,000 tourist arrivals in 2018, the tourism sector will be hit. Several hotels and tourist services have temporarily closed. Next, the limiting of activity to essential businesses will affect large sections of the economy, even beyond "human contact" industries such as bars, restaurants, or sports games. For instance, the construction sector and most of manufacturing are considered non-essential and will likely need to cease activity until at least April 15. Furthermore, business investment is likely to drop. One project to highlight is the La Brea Dry Dock Facility, a US$500 million investment. The facility is scheduled to be constructed over the course of a three-year period. With the ongoing COVID-19 crisis, this large investment may be delayed. Finally, due to reduced demand for fossil fuels, compounded by an oil price war between Russia and Saudi Arabia, energy prices have dropped significantly to historic lows (Figure 2). A reduced value of energy exports is transmitted to lower GDP growth through consumption, investment, and employment effects, again lowering growth expectations.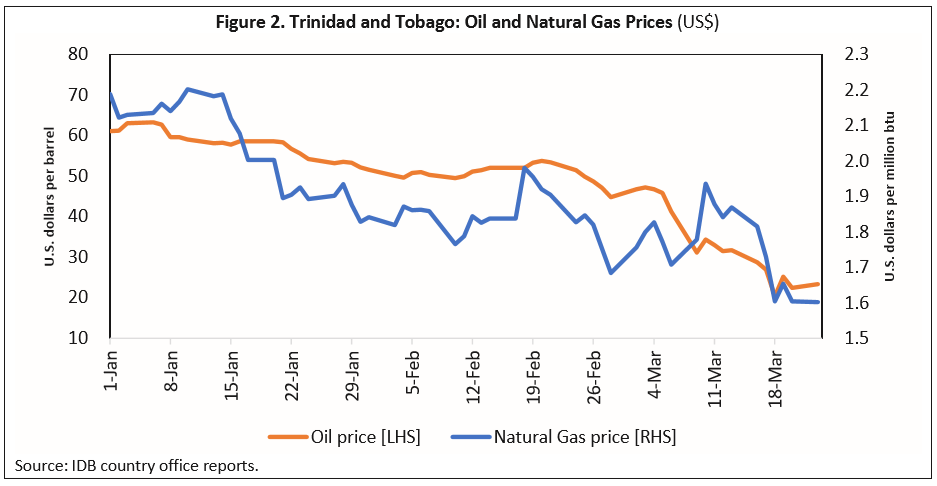 Taken together, it is very likely that the economy will contract. Given the uncertainty in how the COVID19 crisis will evolve, precise growth estimates are difficult. Based on a sectoral analysis, however, the economy is now expected to contract in 2020. This expectation contrasts with the previous estimate of +1.5 percent.
To address the health and economic impacts of the COVID-19 crisis, the government has taken several measures. On the health side, budgetary resources are directed to the health sector, including for hiring additional medical personnel. Hospitals and medical facilities are disinfected on a daily basis and specific sites are dedicated to treat affected persons. Furthermore, foreign exchange is prioritized for the purchase of basic food items and medical supplies. Several economic measures have been put in place targeting both businesses and households, including accelerated value-added tax and income tax refunds, temporary deferral of loan and mortgage payments, distribution of food cards, a salary relief grant for the unemployed, rental assistance, and a grant for affected hoteliers in Tobago. On the monetary side, the central bank cut the main policy rate by 150 basis points—from 5 to 3.5 percent—and lowered the reserve requirements from 17 to 14 percent. These monetary policy actions, announced on March 17, should increase liquidity in the financial system and are expected to stimulate private sector credit (as commercial banks lowered their prime lending rates in response).
Most of the measures taken will come at a fiscal cost and additional borrowing. The authorities have already relaxed the rules of the Heritage and Stabilization fund to allow for larger withdrawals of up to US$1.5 billion. Taking into account a drop in nominal GDP, reduced energy and non-energy sector revenues, and the COVID-19 stimulus package, calculations suggest that the overall fiscal deficit for FY2019/2020 may be between 8 and 10 percent of GDP. Outlining an economic and fiscal recovery plan for the post-pandemic period will therefore be an important step going forward. 
---
Footnotes:
1As 19,852 persons had entered the country via the airports since March 9—mainly coming from the United Kingdom, United States, and Canada—it is likely that the number of COVID-19 cases will continue to rise for a while, despite the stringent measures taken by the authorities.