The Bahamas has experienced two major economic shocks over the past 12 months: Dorian and COVID-19.
The Coronavirus Outbreak and Government Actions to Prevent Transmission
The Bahamas has experienced a rise of confirmed COVID-19 cases, reaching 21 as of April 1, 2020, the same day the country reported its first death related to the virus (Figure 1). There seems to be an increasing number of isolated cases on different islands, and some infected persons did not have recent travel histories, which suggests that the number of cases will likely continue rising.1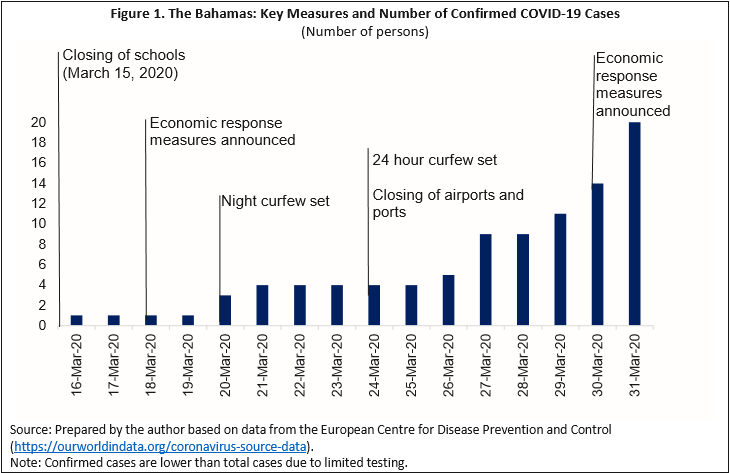 The government of The Bahamas quickly responded to the pandemic, prioritizing social distancing measures to reduce the spread. International travel for passengers has been halted, as all airports and seaports for passengers, seafaring, and private boating have been closed. Domestic travel has also been restricted except for the transport of freight. Schools and education institutions have been closed since March 15, 2020 and, a full curfew has been in place since March 24, 2020, which will remain in effect until at least April 8, 2020. A complete lockdown was announced on April 6, 2020.
Economic Growth Prospects: Then and Now
The Bahamas, which had already experienced a negative shock to growth due to Hurricane Dorian in the last quarter of 2019, will likely contract substantially in 2020 as a result of COVID-19. The country is vulnerable to external shocks. The Bahamian economy is closely linked to the U.S. economy through its main economic activities, including tourism and real estate. Prior to COVID-19, the real GDP growth forecast for 2020 had already been revised from 1.7 percent to -0.6 percent due to the effect of Hurricane Dorian. The authorities now expect a more significant contraction in 2020. Although the extent of the contraction remains unclear, the authorities announced that the total economic impact could range between US$258 million and US$1 billion (or about 2 to 8 percent of annual GDP) through June 2020.  
The main shock transmission channel in The Bahamas is the tourism sector. Tourism is a key industry for the economy, directly accounting for 11 percent of GDP in 2018. Tourism receipts reached 77.2 percent of exports and 27.2 percent of GDP in 2018. In 2019, 82 percent of visitors originated from the United States, followed by Canada and Europe (each of which accounted for 7 percent of all visitors). Cruise arrivals accounted for approximately 75 percent of total arrivals in 2019. Tourism arrivals peak between December and April every year, coinciding with Christmas and spring holidays in the United States, and are lowest between August and October (Figure 2).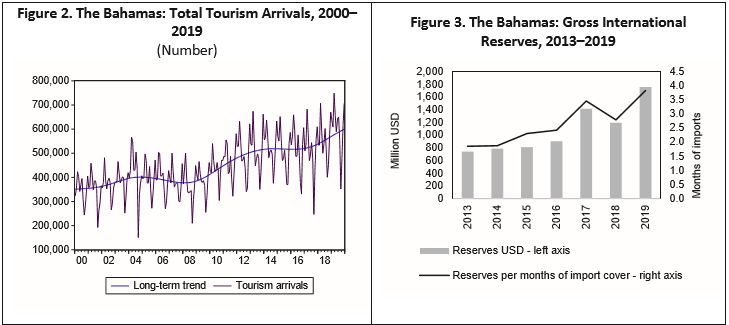 Sources: Tourism Today Report (http://www.tourismtoday.com/services/statistics/foreign-air-sea); and the Central Bank of The Bahamas.
Other key sectors for the economy could also be negatively affected by a global economic slowdown. For example, real estate activities (accounting for 18 percent of GDP in 2018) are driven by luxury properties and vacation rentals that are mostly used by foreigners. The wholesale and retail sector (with accounted for 12 percent of GDP in 2018) could also be negatively affected by lower tourism arrivals and curfews. Foreign direct investment (FDI) could decline, as key source markets such as China and the United States could face economic downturns of their own following the surge of cases in those countries. Finally, reduced labor mobility and the potential compromise of food security—considering that approximately 90 percent of food is imported in The Bahamas—could also have indirect negative externalities on growth. Although low international oil prices will provide relief at the international reserve level (as The Bahamas is a net importer of oil), the positive economic impact will be marginal given the overall stall of economic activity.  
The international reserve cover will likely decrease in 2020. Reserves increased in 2019 as a result of insurance reinvestment flows (Figure 3), but lower tourism receipts and potentially lower levels of FDI will exert pressure on reserve levels, which are important to maintain the country's exchange rate peg (US$1=BS$1). Based on preliminary projections announced by the authorities, external reserves could decline by some US$900 million by the end of 2020
Government Policy Response
The government of The Bahamas has been rolling out a large set of measures over the past month to respond to COVID-19, including health and safety, social, fiscal and financial measures.
Health and safety: The government approved additional financing for the health sector for detection, isolation, and treatment of COVID-19 cases. A testing lab has been set in-country and centers have been prepared for isolation. Supermarkets have opened two hours early for senior citizens to shop before the general public is given access to the stores. The Department of Environmental Health Services has been sanitizing public spaces, and individuals' mobility has been completely restricted since the full curfew has been in place.  
Social: An additional US$4 million has been allocated through the Ministry of Social Services to provide food assistance and support for displaced workers directly affected by COVID-19. In addition, US$10 million has been allocated to provide for a temporary unemployment benefit for self-employed persons, administered through the National Insurance Board. Water and sewerage services and electricity should also be reconnected for all users. In addition, school meal vouchers are being provided for two weeks and training opportunities in the construction sector are being expanded to support rebuilding efforts.
Fiscal: All non-essential expenses for the government have been restricted, events have been cancelled, and the government has accelerated the approval process for domestic and foreign capital investment projects. Companies have been granted tax credit and medium-sized and large companies allowed tax deferrals in order to help cover payroll expenses in exchange for retaining workers. The government has allocated US$1.8 million to support COVID-19-related expenditure in the Family Islands.
Financial: Short-term loan support of US$20 million has been allocated to Bahamian small businesses affected by COVID-19. Domestic banks and credit unions have provided a three-month deferral of repayments on credit facilities for businesses and households, and are assessing the possibility of launching tailored products and services for individuals. The Bahamas Development Bank has also offered a three-month deferral of repayment to credit facilities. 
---
Footnotes:
1 All data in this section are dated up to April 1, 2020.