Barbados went into the COVID-19 crisis in better form than other countries thanks to the reforms carried out in the last 18 months.
The Coronavirus Outbreak and Government Actions to Prevent Transmission
The number of COVID-19 cases in Barbados has been rising (Figure 1). During the second half of March 2020, Barbados saw a rapid increase in cases, reaching 46 as of April 2. Most of the recorded cases have either been imported or have resulted from the tracing efforts that have been conducted.1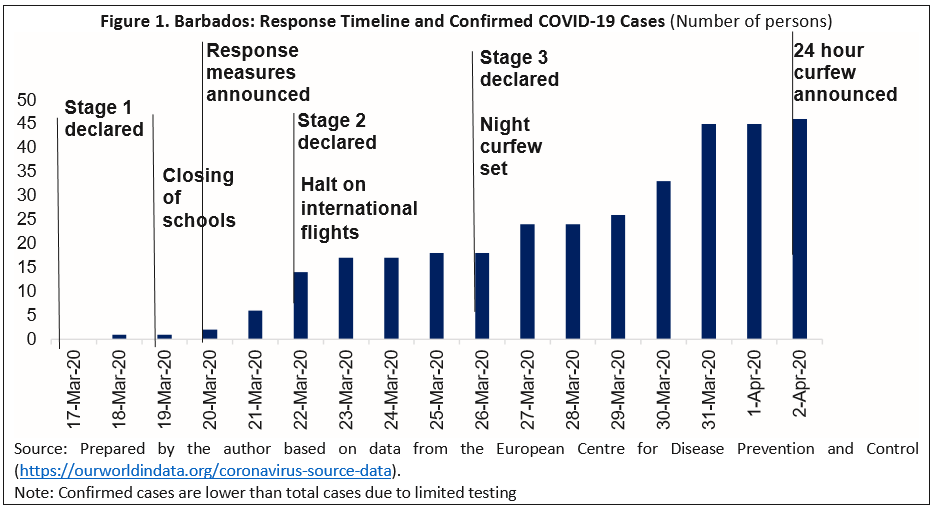 The government's response strategy has been divided into three stages, following guidelines from the World Health Organization. Stage 3 was activated on March 26, 2020, when a public health emergency was declared and a curfew between 8 pm and 6 am implemented for the period from March 28 to April 14, then expanded to a 24-hour curfew on April 3. Only essential services and special categories of businesses are to open during this period. All other businesses have been closed. Additional measures include the deployment of additional isolation facilities for moderate cases and the recommendation that ill workers get 5-7 days without requiring a sick leave form. In addition to these measures, on March 22 the government announced a halt to most international flights until May, leaving the country with minimum international transport services that are now mostly focused on cargo.
Economic Growth Prospects: Then and Now
The externalities of COVID-19 will have strong negative effects on economic growth in Barbados. Being a small island state, the country is highly vulnerable to external shocks, particularly to its main tourism source markets, Canada, the United Kingdom, and the United States. Forecasts prior to the COVID-19 crisis estimated real GDP growth of 0.6 percent for 2020. However, the authorities now expect the economy to severely contract. Lower growth prospects also pose a serious risk to continued achievement of the structural benchmarks under the External Fund Facility (EFF) program with the International Monetary Fund (IMF).  
The main shock transmission channel is the tourism sector. Tourism is the main driver for growth and the main source of foreign exchange, accounting for 17.5 percent of GDP in 2019 and directly employing over 12 percent of the labor force. Although the high season spans between November and March (peaking in December; see Figure 2), tourism remains an important source of economic activity until September. Wholesale and retail sectors, which accounted for almost 10 percent of GDP in 2019, could also be adversely impacted by lower demand resulting from the decline in tourism arrivals and the curfew (Figure 3).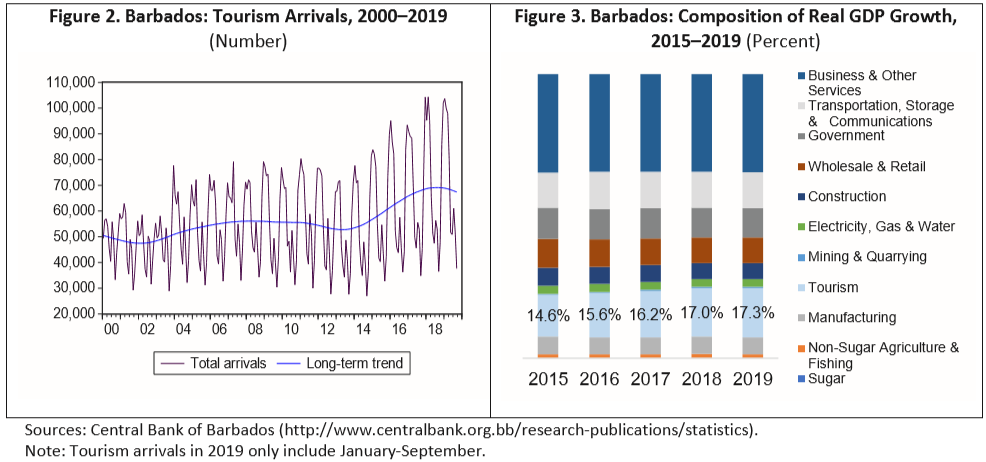 Investment levels and international oil prices will also have effects on the economy in the next few months. Investment levels could fall if countries like the United Kingdom, the United States, or Canada face strong downturns in their economies. Foreign direct investment (FDI) declined from 4.4 percent of GDP in 2018 to 3.5 percent of GDP in 2019. Lower tourism receipts and FDI will also have a negative effect on the level of international reserves, which stood at 19 weeks of the import cover in March 2020. Although low international oil prices will provide relief to the level of international reserves (as Barbados is a net importer of oil), the positive economic impact will be marginal given the overall reduction in economic activity.
Government Policy Response
On March 20, 2020, the Prime Minister announced a broad package of support measures. These are divided into social, monetary and financial policy measures:
Social policy measures: The government approved additional funding for the purchase of medical supplies and medicines. The government has also identified a basket of goods that will be monitored to ensure adequate supply levels and prevent hoarding and price increases. The Barbados Water Authority has been asked to reconnect the water supply for households that had it cut off, the "Homes for All" Project has been prioritized, and agricultural food production is being increased. A total of US$10 million has been allocated for social assistance. There will be an increase in the transfers paid by the Welfare Department, and the Household Survival Program will be prioritized. A social fund called the "Adopt a Family Fund" has also been established and is targeting donations from corporate and private citizens. There will also be care packages distributed to 3,000 vulnerable families. A one-stop shop has been established to ease the process of filing for unemployment benefits. In addition, the authorities have announced their intention, if required, to recapitalize the unemployment fund.
Monetary policy measures: From April 1, 2020, the Central Bank of Barbados reduced its discount rate for overnight lending from 7 percent to 2 percent, it reduced the securities ratio for banks from 17.5 percent to 5 percent and eliminated the 1.5 percent securities ratio for non-bank deposit taking licensees. The Central Bank also announced its intention of collateralizing loans for up to six months as liquidity support for licensees, if required.
Financial policy measures: Commercial banks will offer a 6-month payment moratorium on loans and mortgage payments for persons and businesses directly impacted by COVID-19, as well as the development of further options to support borrowers' cash flows and short-term liquidity challenges. The small hotel investment fund is also being recapitalized with US$10 million and a US$0.5 million fund to support arts and sports development is being set aside.  
The authorities have requested additional financing support from international financial institutions. This includes the possibility of extending the IMF EFF envelope by US$100 million, to US$390 million, and disbursing a US$80 million policy-based loan from the Inter-American Development Bank. The targets and structural benchmarks under the program for FY2020/2021 with the IMF are being renegotiated. 
 
---
Footnotes:
1 All data in this section are dated up to April 2, 2020.